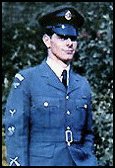 This site is dedicated to all my old pals in the RAF Regiment particularly Cyril Fletcher, Graham Garvey, Keith Marley, Rocky Burden, Geordie McGee, Curly Gates and Joe Caesar. Also to the many friends & buddies who during my service years were in the following units........ The Blues & Royals, 40 Commando RM, 1st Battalion Gloucester's, Sherwood Foresters, RAF Police, 103MU , MT , Clerical , RAF Regiment Band & RAF Central Band. The US Marine Corps, US Marine Embassy Guards & US Navy. And to any other Rockapes who new me as 045. One of the difficulties of putting together a web site, about a period in my life over 38 years ago is that once I left the RAF in 1966 I never looked back and as I kept no diaries or notes. Everything is from memory. Although the events which I relate are true and are still vivid in my mind, I admit there may be some minor inaccuracies. Where specific dates are not given then an approximate one is used. One of the biggest problems I have encountered is trying to recall names, even of pals with whom I had a close and long friendship, to whom I can only apologise.
All the photographs and other items posted on these pages are owned by me and where possible I have added an identifying caption. Unfortunately due to a divorce in the 1980s many pictures and other interesting bits and pieces from my RAF days were left with my ex-wife. In particular photographs of the then 2 Field Squadron, undergoing initial parachute training at RAF Nicosia, Cyprus in 1962 are a sad loss.
Unless stated all my pages refer to the period between 1957 and 1966
This site was re-built built using Microsoft FrontPage 2000 and HTML.
All photographs were repaired and enhanced (where needed) using Photoshop. To create the graphics and page backgrounds I have used Paint Shop Pro. All graphics (apart from flags, weapons & the Rules of the Air graphics) on this site are the creation of the webmaster and cannot be used on other web sites or in any publication without permission. All images are traceable. Photographs and historical items are either owned by contributors or the webmaster and must not be reproduced without permission from those parties. None of the text or Remembrance page entries may plagiarized in part or whole and used in any publication, newsletter or website without permission.
Disclaimer: The views and comments of the Webmaster are not necessarily upheld by the contributors to this site.